Tote bags and fabric baskets were fun to make!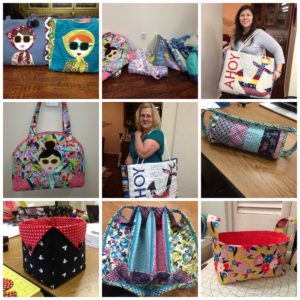 Gathering at Honey Hill is a time to be with friends, create and relax! There are two kinds of retreats at Honey Hill, Private and Sweet Bea retreats.
Plan a get away with your guild, bee sewing group or just for a girls weekend out of town! Check the calendar to find the available date and give Kim Cotcher a call to reserve the space. Be sure to check the rates and the deposit policies here. We look forward to having you at Honey Hill!
These retreats are hosted by Kim Cotcher and often will have wonderful local teachers to share their skills and awesome projects. This is a great time to make new friends and acquire new skills. Check the specific retreats for details and if one is full be  sure to let us know you are interested and we will put you on the waiting list!